For GPs we have included a referral form for your ease in referring patients to our service. We are committed to attending to your patients promptly and professionally. Please DOWNLOAD, print and fax the completed form to us on: (02) 9687 4005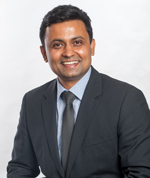 Dr Arvind IYER, MD (Hons), FRACP.

CARDIOLOGIST & General PHYSICIAN
Dr Iyer is dedicated to providing impeccable and compassionate care comprehensive, state of art screening services, expert preventative care and diagnosis in this professional facility. Dr Iyer graduated from St.Petersburg State Medical University with High distinction. He was bestowed the Presidential Red Degree for attaining the university gold medallist with academic excellence. He subsequently completed postgraduate training in the UK. Dr Iyer underwent further Physician's training at Prince of Wales Hospital, Sydney and completed his Cardiology training & fellowship in Royal Canberra & Launceston General Hospitals. Dr Iyer has a special interest in heart failure, cardiovascular disease in women, structural and valvular heart disease with a strong focus on non-invasive cardiology such as Stress ECHO, Trans-oesophageal ECHO and 3D TTE. He is a faculty member at the Macquarie University Hospital & a Staff Specialist at Liverpool Hospital. Dr Iyer is fluent in several languages including Hindi, Tamil, Telugu, Russian & German.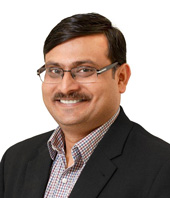 Dr PANKAJ GARG. MBBS, MD, FRACP.

CONSULTANT Paediatrician
Dr Pankaj Garg is a Paediatrician with an interest in children with Developmental and Behavioural Disorders. He has broad general paediatric experience including working with children with common paediatric conditions, disabilities and behavioural conditions such as autism and ADHD. He also has experience with newborns, adolescents and has experience in managing complex pain conditions in children. He is an accredited provider for developmental assessments of children using validated tools such as Griffiths Mental Development Scales (GMDS) and has training in Autism Diagnostic Observation Schedules (ADOS).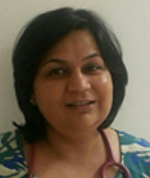 Dr Anjali Dhawan, MBBS, MD, FRACP
Neonatologist & Paediatrician
Dr Anjali Dhawan is a Neonatologist and Paediatrician, with clinical experience providing care to newborns and their families for over a decade. After paediatric training from Sydney Children's Hospital, she completed her specialist training in Neonatology from the Royal Hospital for Women and the Royal North Shore Hospital. Her research interests include the long term development outcomes of the high risk neonates. She has expertise in performing formal neurodevelopmental assessments and providing early intervention follow up.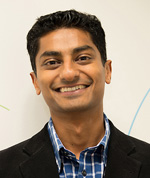 Dr Shihab Hameed, MBBS, FRACP
Paediatric Endocrinologist
Dr Shihab Hameed graduated from University of New South Wales and continued his postgraduate training in Paediatrics with subspecialisation in Paediatric Endocrinology through Sydney Children's Hospital, Randwick. He has completed a PhD in Paediatric Endocrinology through the University of New South Wales. He has practiced for several years as a Staff Specialist in Paediatric Endocrinology, at a number of sites including, Sydney Children's Hospital, Campbelltown Hospital, Nepean Hospital, and now works at Royal North Shore and Sydney Children's Hospitals. He has a strong interest in clinical research and teaching, and has expertise in the management of disorders of growth, puberty, adrenal, pituitary and thyroid function, obesity, insulin resistance, diabetes mellitus, insulin pump therapy and continuous glucose monitoring.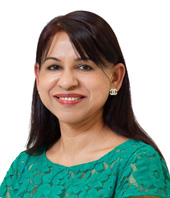 Dr Catherine Jonas, MBBS, FRACP
Paediatric Sleep Physician
Dr Catherine Jonas is a Consultant Paediatrician and a Paediatric Sleep Physician. In addition to general childhood medical conditions, she has special interest in obstructive sleep apnoea, insomnia and various non-respiratory sleep disorders. She completed her medical degree in India. She got trained in General Paediatrics as well as Sleep Medicine in the Sydney Children's Hospital Network. As a Conjoint Lecturer with UNSW, she was actively involved in training undergraduate medical students. She is interested in medical research studies and has presented her research work in several national and international conferences. She is a mother of two teenage boys, and enjoys travelling, cooking and gardening.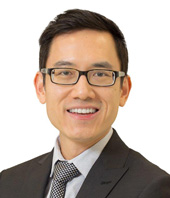 Dr Eric Cheah, MBBS, FRACP
Paediatric Gastroenterologist
Dr Eric Cheah is a Paediatric Gastroenterologist and Hepatologist. He holds a public appointment at the Children's Hospital at Westmead. He also has admitting rights at the Sydney Adventist Hospital, Westmead Private Hospital and Hospital for Specialist Surgery.
Dr Cheah graduated in Medicine from the University of Melbourne in 2005 where he also obtained Honours in the Bachelor of Medical Science. He commenced his paediatric training through the Royal Children's Hospital in Melbourne. In 2014, Dr Cheah completed his subspecialty training in Paediatric Gastroenterology and Hepatology, as well as paediatric liver transplantation at the Children's Hospital in Westmead. He was a Research Fellow with the James Fairfax Institute of Paediatric Nutrition, University of Sydney, examining the clinical effects of a drug intervention on cystic fibrosis pancreatic disease, and also study coordinated for an eosinophilic oesophagitis multicentre study. He has published and presented nationally and internationally.
Eric manages children from newborns to adolescents with gastrointestinal complaints including abdominal pain, functional gastrointestinal disorders, coeliac disease, constipation, diarrhoea, gastro-oesophageal reflux disease, liver disease and failure to thrive with a special interest in eosinophilic oesophagitis, inflammatory bowel disease, and cystic fibrosis.
Dr Cheah is accredited to perform paediatric gastroscopy and colonoscopy by The Conjoint Committee for the Recognition of Training in Gastrointestinal Endoscopy (CCRTGE). He also provides paediatric video capsule endoscopy (pill cam) services. He is a Fellow of the Royal Australasian College of Physicians (RACP), member of the Gastroenterological Society of Australia (GESA) as well as the American Gastroenterological Association (AGA).
Eric loves the outdoors, travelling and playing tennis. He also has a PADI open water diver certification.
Dr Swapnil Shah, MBBS, DCH, DNB (Paeds), MRCPCH, FRACP
Neonatologist and Paediatrician
Dr Swapnil Shah is a Neonatologist and Paediatrician (dual qualification). He is a Gold Medal recipient in DNB (Paeds).
He undertook specialist training across various hospitals in Sydney including Sydney Children's Hospital, The Children's Hospital Westmead, Westmead Hospital, Royal North Shore Hospital and Royal Hospital for Women.
He has many years of paediatric experience. Dr Shah is a consultant at The 'Newborn and Paediatric Emergency Transport Services' (NETS) and provide newborn services at Westmead Hospital. He has special interest in growth and development of newborns and is accredited to conduct General movement and Bayley developmental assessment.
He is comfortable in Hindi and Marathi in addition to English.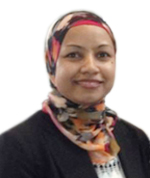 Dr Zeb Rahman MBBS, MRCP (UK), FRACP
ADULT NEUROLOGIST
Dr Zebunnessa Rahman is an adult neurologist. She is a consultant (staff specialist) at Westmead Hospital, Sydney. Her areas of interests include all diseases that affect brain, spinal cord, nerves and muscles including headaches and stroke with an expertise in epilepsy and electroencephalography. She is an Honorary Clinical Lecturer at the University of Sydney, Educational supervisor for the Royal Australian College of Physicians, Epilepsy and EEG tutor at Asian Epilepsy Academy. She is currently doing PhD thesis on 'Epilepsy in primary brain tumour' at University of Sydney. Her particular areas of interest include Brain tumor related epilepsy, Tuberous sclerosis related epilepsy, Invasive EEG monitoring and epilepsy surgery and Transcranial magnetic stimulation.
Dr Shweta Batra. MBBS, DCH, FRACP.

CONSULTANT Paediatrician
Dr Shweta Batra is a General Paediatrician. She is a Fellow of the Royal Australasian College of Physicians (FRACP). She has more than eight years of clinical experience in Paediatrics. She completed her basic as well as advanced training in Paediatrics at The Children's Hospital at Westmead. She is currently involved in research in the Adolescent Medicine Unit at The Children's Hospital at Westmead. She has expertise in the management of General Paediatric issues for age group ranging from newborn to adolescent years. She has special interest in growth & development and chronic disease management.
Dr Kavita Bhola, MBBS, DNB, FRACP
Neonatologist & Paediatrician
Dr Kavita Bhola is a Neonatologist and Paediatrician who undertook her training at Canberra Hospital, Sydney Children's Hospital, Royal Hospital for Women and the Royal Prince Alfred Hospital. She is a consultant at Blacktown Hospital and holds visiting medical officer positions at Westmead Private Hospital and Prince of Wales Private Hospital. Her expertise is in looking after babies in the newborn period extending to the early formative school going years.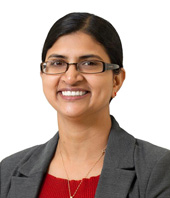 DR KAVITHA KOTHUR, MD, DCH, FRACP
PAEDIATRIC NEUROLOGIST
Dr Kavitha Kothur has specialist qualifications in paediatric neurology and paediatrics.
She completed paediatric neurology training through fellowships in epilepsy, neuromuscular, neuroimmunology and general neurology at the Children's Hospital at Westmead. She also worked in neurodisability/rehabilitation clinic and child psychiatry. Dr Kothur provides comprehensive care for neonates and children with neurological problems from birth through to 16 years of age and works towards providing best possible care for her patients and their families. She has broad range of clinical experience in the diagnosis, investigation and management of children with seizures, epilepsy, headache, developmental and behavioural concerns, neuromuscular problems, neurogenetics, Tics, abnormal movements and psychosomatic disorders and brain injury. She has experience in managing children with disability and strongly advocates for their support services. She has a strong interest in clinical research and teaching. She also has an appointment as clinical lecturer at the Discipline of Paediatrics and Child Health, University of Sydney. She is currently conducting research at Institute for Neurosciences and Muscle Research (INMR) in developing biomarkers of neuroinflammation as part of PhD. She has honorary appointment as postgraduate fellow in epilepsy at the Children's Hospital at Westmead. She published her research in peer-reviewed journals and has presented her research work in national and international child neurology conferences. She is a mother of two young girls and understands family needs and challenges faced by the families.
Dr Narinder Kaur, FRACP
Paediatric ALLERGIST
AND IMMUNOLOGIST

Dr Narinder Kaur is a Paediatric Allergist and Immunologist. She had extensive experience in managing Paediatric food allergy (birth to 16 years), eczema/severe eczema (birth to 16 years), drug allergies, asthma, allergic rhinitis and immunotherapy for aero allergies. She is currently involved in research on peanut allergy with the Allergy and Immunology department at The Children's Hospital at Westmead.

Dr Kaur organises all the required investigations (skin prick tests and blood tests) at the time of consultation. She can organise food and drug challenges. Dr Kaur has keen interest in education and research. She is as academic paediatrician with the Sydney Child health Program at The Children's Hospital at Westmead. Dr Kaur is a formal examiner with Royal Australasian College of Physicians (RACP). She has presented her research at various national and international conferences.

Dr Kaur has 2 children, one of them with severe food allergies. She understands the challenges faced by children and their families in managing food allergies every day and how it affects them.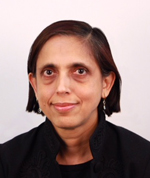 Dr Nidhi Gupta,
MBBS, FAFRM(RACP),
postgrad pain management
Rehab Physician & Pain management
Dr Nidhi Gupta is a senior specialist in rehabilitation medicine at Westmead Hospital with many years of experience.
She has special interest in medical management of chronic pain, neuro-rehabilitation, stroke rehabilitation, orthopedic rehabilitation, amputee and trauma rehabilitation.
Dr Gupta has done her fellowship in rehabilitation medicine, post-graduate course in pain management.
She is actively involved in research presenting frequently at local and international conferences. She is both an undergraduate (Syd Uni) and postgraduate educator (RACP) and postgraduate examiner.
Dr Gupta is experienced in a variety of fields including;
• Chronic Pain medical Management and
functional restoration
• Musculoskeletal/ Orthopedic Rehabilitation
• Geriatric Rehabilitation and reconditioning
• Neurological Rehabilitation
• Amputee Rehabilitation
• Acquired Brain Injury
• Spinal rehabilitation
• Stroke rehabilitation and spasticity management
• Work related injury and return to work/return
to driving
Our clinic is supported by a range of specialists.
OUR SPECIALISTS INCLUDE:
NEWBORN SPECIALISTS
GENERAL PAEDIATRICIANS
PAEDIATRIC ENDOCRINOLOGIST
PAEDIATRIC NEUROLOGIST
PAEDIATRIC SURGEON
CARDIOLOGIST
ADULT PHYSICIAN
GERIATRICIAN
OUR SPECIALISTS PROVIDE THE FOLLOWING SERVICES:
Preterm & High Risk infant follow-up
General paediatrics
Newborn circumcisions
Newborn 6-week checks
Feeding issues
Tongue-tie repair
Growth & development checks
Endocrine disease management
Paediatric diabetes & obesity clinic
Developmental Paediatrics
ADHD and Autism
Paediatric Neurology
Adult acute and chronic disease management in elderly
Cardiology services
APPOINTMENTS
All our specialist visits are by appointment.
Some of our specialists have weekend appointments for your convenience.
SERVICE FEE
Our specialists are independent practitioners and each sets their own fee. This means there may be a gap fee (i.e. out of pocket fee).
At the time of booking your appointment, please speak to our staff to discuss the fee.
We ask that you pay the account in full on the day of consultation.
Medicare rebates are available to cover a portion of this fee for Specialist appointments. For your convenience we are able to process this claim for you online and Medicare will automatically deposit your rebate into your bank account usually within 24 hours.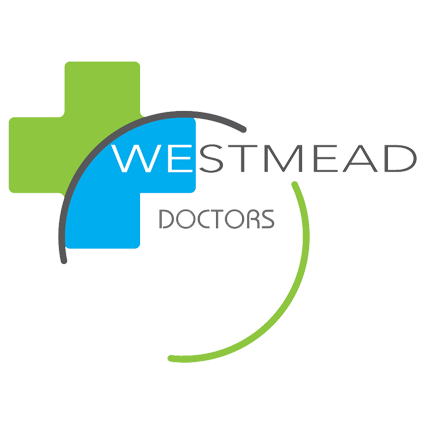 PRACTICE SUPPORT

Our friendly and helpful team
of practice Manager, Nurses and
Receptionists are always ready to
help and serve.